Biomagnetism and Beyond – Training
Biomagnetism has the potential to advance the health industry throughout the world. It is a simple, effective system that people from all walks of life can learn and apply. By empowering them to reclaim control of their well-being and health, it restores hope."
This training seminar will be presented in English by Dr. Luis F. Garcia. Dr. Garcia will teach theory and hands on practice daily. He will address the audience on the proper informed consent format to use and legal issues encountered that must be adhered when applying the Biomagnetism Therapy in the United States.
You will need to bring your own notebooks. Pens will be provided.
Dress code: This is a professional training seminar, as such, professional attire is required.
Please, no shorts, sweat pants, tank tops, tee-shirts, sandals, Crocs or flip-flops.
Please bring a pair of clean socks daily to be used during practice times.
Name badges will be provided; they must be visible during the duration of the seminar.
We recommend that you download and subscribe to our Beyond Biomag 3D application for you to learn and use as a reference tool during the seminar and beyond.
Dr. Garcia Biomagnetism Training
Dr. Garcia was honored to learn biomagnetism from its founder Dr. Isaac Goiz and has attended over 22 Biomagnetism courses taught by Dr. Goiz and other colleagues. Dr. Garcia has approached his over 15 years of practice as an opportunity to research and further advance Biomagnetism. In so doing, he has developed his own techniques and numerous protocols to address challenging health issues more effectively.
When first learning biomagnetism, Dr. Garcia recognized its potential for transforming the medical industry and empowering people from all walks of life all around the world to take control of their health and well-being. It is with this vision in mind that Dr. Garcia shares his expertise in his training programs.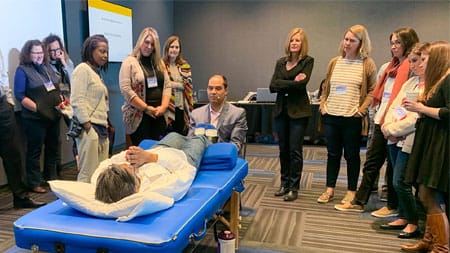 "Science and art belong to the whole world, and the barriers of nationality vanish before them" – Johann Wolfgang von Goethe  (1749 – 1832)

Certified Biomagnetic Practitioners, unless separately licensed to do so, do not diagnose or prescribe for medical or psychological conditions nor claim to prevent, treat, mitigate or cure such conditions, nor provide diagnosis, care, treatment or rehabilitation of individuals, nor apply medical, mental health or human development principles, but rather provide traditional ministerial counseling, bioenergetic, biofeedback, herbal and/or nutritional modalities that may offer therapeutic benefit by supporting normal structure and function.